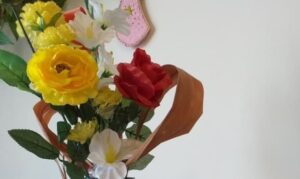 Niestety #coronavirus zamknął nasz #DomSymeonaiAnny – Dom lekarstwo na codzienną samotność. Mamy nadzieję, że niebawem znów będziemy wszyscy razem a tymczasem … Szkoły przechodzą na naukę na odległość a my na aktywizację na odległość. W ten sposób powstają piękne dzieła Zdjęć byłoby więcej ale niestety – gdy jeszcze było normalnie – zabrakło nam funduszy na przeprowadzenie warsztatów "Senior – On-line". A szkoda… Teraz bardzo by się przydały … ALE TRZEBA WIERZYĆ, ŻE JESZCZE BĘDZIE OKAZJA !!!
Seniorzy są dzielni. Sami "próbują ogarniać telefon" i to do późnych godzin!!! Testowe sms-y wybudzają ze snu – ale i tak są bardzo sympatyczne!
Oczywiście nie rezygnujemy z realnej obecności – gdzie tylko trzeba docieramy z ciepłym obiadem!!!
A gdyby ktoś chciał wesprzeć naszą pomoc dla seniorów może to uczynić tutaj -> https://stowarzyszeniedobroc.pl/wspieraj-seniorow-z-domu-s…/ Zbiórka dedykowana jest zaplanowanemu remontowi "Domu Symeona i Anny". Ze względu na KoronaWirusa w pierwszej kolejności będziemy jednak zaspokajać aktualne potrzeby Seniorów. Z serca dziękujemy za każde wsparcie!